Community Projects
---
The Good Hope Quilters Guild supports a number of Community Project initiatives through its affiliated groups and members. If you or your group would like acknowledgement and support or have a specific need, please provide us with your details by contacting JASU DALA. There is a drop-off point near the sign-up desk at the quarterly meetings for donations.
NB - All the below groups are in need of donations of cotton fabric, thread, batting, rulers, notions etc. Sewing machines (in good working order), books and magazine are also gratefully received. JASU DALA may be contacted in respect of donations.
COMMUNITY KNITTING AND knitted Mother Theresa jerseys form the foundation for this project and hundreds of these jerseys have been donated to local hospitals, clinics and children's homes. Mother Theresa Jerseys (knitted in one piece) are the base for this project. Hundreds of these jerseys have been distributed to hospitals, clinics and children's homes in the Western Cape. Jerseys for new-borns, bigger babies as well as toddlers are most welcome, as well as caps, beanies, booties and socks. These items can be brought to the GHQG quarterly meetings. Click the link below for the pattern of the Mother Theresa jersey. Contact Ruth Seipp 083 779 2626 if you have any queries.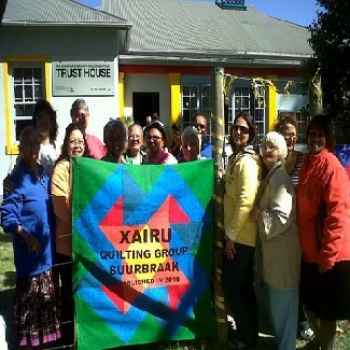 XAIRU - Suurbraak Quilters Guild - Swellendam
The 10 ladies in this group are being taught by FELICITY KAHN and friends. They have a lovely venue at the "Trust House". They wear sponsored fleece tops embroidered with the group's name and are encouraged to personalise the tops using skills they are taught ( eg. – applique).
SAREPTA Quilters - Kuilsriver
This group was started by friends DENISE PIETERSE AND MARITA HAMMAN after they had completed a beginner's course in patchwork and quilting and wanted to give something back to the community. They started with only four ladies, but are now a thriving group of 25 and have recently had their first exhibition. The group is very enthusiastic and eager to learn new skills. They are supported by the local VGK church in whose hall they meet.
RAVI Quilters - Ravensmead - Parow
This group of 30 ladies has existed for 12 years. ANNAMARIE GILLMER leads this group and with the assistance of EMSIE VAN DEN BERG teaches new members basic patchwork and quilting skills. The more advanced ladies work on their own projects and together regularly make a quilt to be raffled. The funds brought in are used to sponsor group visits to quilting exhibitions in the Western Cape.
RUTH PROUSE ART CENTRE - Quilters Group - Woodstock
FELICITY KAHN and friends have a lovely group of 30 ladies eager to learn new skills and make fabric articles. Their only sewing machine was stolen recently and they have to sew by hand.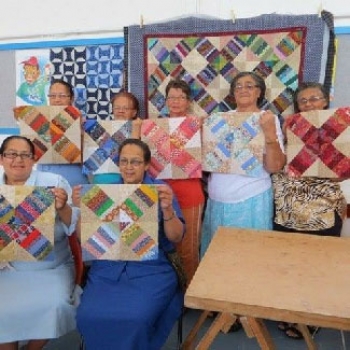 DORKAS - Mitchells Plain
This group was started in 1998 by JENNY HERMAN and LUBI KOORTS after they saw a need to reach out and teach patchwork and quilting skills. Their project was based on the "each one teaches one " philosophy that empowers and builds confidence. By 2002 Dorkas had trained 17 Teachers of Beginners Patchwork and Quilting and their quilts were displayed in the "Outreach" section of the 2002 GHQG Quilt Festival. Dorkas now has a group which meets monthly to carry on the work started by the original project.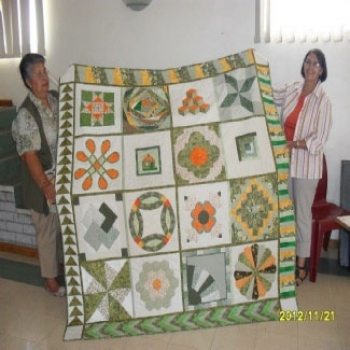 OTHER COMMUNITY PROJECTS
Dog cushions, made up of fabric scraps stuffed into suitably sized pillow-slips are collected by SIMMY SCHOFIELD for distribution to animal shelters.
MARGIE GARRAT can be contacted about making tracksuits and knitted items for AIDS orphans.
THE HIVE is a support group for HIV positive people. They are given skills training with a view to earning a living. They cover baskets, make placemats, curtains and handbags and also do beading. All donations of suitable materials are most welcome. Contact MARGARET FAURE.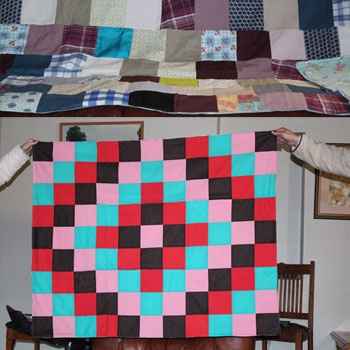 Trooskombersies
Tydens die Pinksterfees in Mei 2015 was die tema gewees: Jy kan dalk nie 'n verskil aan die wêreld maak nie, maar jy kan 'n verskil aan iemand se wêreld maak. Omdat hier baie armoede in ons gemeenskap is en die winter besonder koud was, het ons gevoel om iets aan die mense te gee wat meer is as net nog 'n kombers; iets wat warm maak maar wat ook handgemaak is. 'n Troos kombers!
n Groep dames van Worcester het toe bymekaargekom en begin om komberse te maak van gebruikte materiaal. Deur die genade is ons oorval met skenkings van ou stukkende klere, gordyne en linne. Die materiaal word in blokke gesny wat dan aanmekaar gewerk word om 'n lappieskombers te maak. Die werkers is almal vrywilligers wat 2 maal per maand bymekaarkom en hulle tyd opoffer om te sny, te stik en te stryk. Elke werksessie word dan sommer ook 'n gesellige naaldwerk oggend.
Die dames besluit self waar die komberse versprei word in die Worcester gemeenskap en ons hoop om daarmee ons liefde uit te dra en so baie harte bly te maak.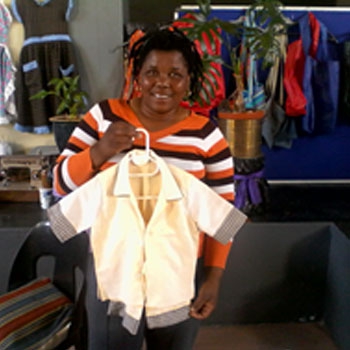 Goodhope Quiters Guild - Outreach Project
Geagte Mev Renee de Beyer
Hiermee wil ons as bostaande organisasie Hadassah Family Wholeness Centre ons waardering betoon deur BAIE, BAIE DANKIE te sê vir die stukkies lap wat ons ontvang het vanaf U. Ons het n Sewing projek wat bestaan uit 6 vroue wat trainees is en hulle maak oulike goedjies uit stukkies lap.
Daarom gaan die lap vir ons baie help.
Weereens baie dankie
Die uwe
Magdal Jaftha / Projek Bestuurder
Charity
Many thanks to all the ladies who sewed, knitted and crocheted items to be distributed to people in need. Your generosity is much appreciated. This quarter I took/ gave items to 3 organisations
Goedgedacht
Some ladies may have visited Goedgedacht, outside Malmesbury. Creative Quilters have a Quilting weekend there. The organisation actually has a number of centres in rural areas and Janet Perrot, who collects the donations says they need items for babies, children and the elderly. The old people enjoy having a lap quilt in the cold weather. It keeps them warm and bright colours cheer up squalid surroundings. She was grateful for the beanies and jersies she received.
Ocean View LSEN( learners with special ed. needs).
This school in Ocean View, outside Fish Hoek, has learners with physical and mental disabilities. They draw children from the southern peninsula. The school is facing many challenges. Seaside Quilters have decided to try and make a difference. As mobility is a problem, the children feel the cold. So the Seaside Quilters are making lap quilts - 1m x 1.50m, and knitting beanies and jerseys. There were some jerseys and beanies which would fit these children, so I passed them on to a representative of the school.
Groote Schuur.
We received some very small beanies and I was told that Groote Schuur has a unit which handles prem and very small babies. I took a big bag of beanies, booties and some vests to them. They were thrilled with them. I must say finding the right office - I had the floor and number - was challenging! I wandered up stairs, down corridors and into some strange nooks and crannies, begging directions as I went, until some compassionate soul took pity on me, and delivered me to the correct door - which was right next to the entrance! I'll know next time.
So ladies, we need lap quilts, beanies and jerseys for school children, plus the other lovely goodies you so generously make. Spring is almost springing, so have a clear-out, and and use the clear-outs for these lap quilts. Just think, you can practice your quilting and designing for someone who will be very glad of your help. Many thanks - in advance
Ruth Seipp
I wanted to share some lovely news with all of you.I recently reconnected with a wonderful woman from the CWD who has been painstakingly holding the fort at the organisation in terms of the sewing project that she runs. Her name is Christine and she is doing amazing work with the groups of people who they are teaching how to sew. Here is some of her communication below:
"Our Project has moved to Athlone , 146, Lawrence road, at least the place is conducive. we have a permanent access to the internet which was a big challenge in the past. By next year the project will be running a Sewing course which our in takes will be unemployed and disadvantage people. The training will be for 6months and free of charge. I'm looking forward to it. This initiative will be a way to give back to the community for what CWD did for me. Passing on my skills and knowledge to someone which will help the person to turn her or his life around."
She also sent a picture of one of the products they make and I have attached it to this email. There are a bunch of knitted goodies going through to them soon.
Thank to all who continue to donate fabric and items for such a worthy cause. As you can tell, they highly value your generosity.
Best wishes,
Margie Garratt
Dear Good Hope Quilters,
A huge THANK YOU to all the members of the Good Hope Quilters Guild for their generous donation of fabric, books and magazines, notions and useful goodies as well as the Elna overlocker to the Silver Threads quilting project in Ashton.
Silver Threads Community Centre is an NGO dedicated to the upliftment and care of the community in the Breede River Valley and is based in Ashton. Projects include providing meals, clothing and blankets to children, the disabled and the elderly, assistance with obtaining medical care and access to social services, promoting interaction between various groups (such as the elderly and the younger generation) and the development of skills that could result in economic development.
The quilting project started in May 2014 with the objective of teaching unemployed women elementary sewing skills that could be applied in making a variety of articles from fabric that could be sold to generate an income. At the moment there are seven members in the group. We were fortunate to be offered an area at Platform 62 where we could set up a small workshop and display completed items for sale. Platform 62 is a popular tourist destination for local and foreign visitors to the area. Most of the materials used are donated.
The initial plan was to teach the members traditional patchwork and quilting techniques but this soon expanded to making other items (such as rag dolls, teddy bears and bags) so that we could use virtually any kind of fabric. Good cotton suitable for classic patchwork and applique was scarce so you can imagine how delighted we were to receive such a large quantity of lovely quilting fabric! The heavier linen, curtaining and upholstery fabrics are also most welcome and we have already planned how we can use it all to make a variety of things. Thanks too for the UFO's, especially the "African" themed modern patchwork - are you sure you really want to give it away ???? This could be the start of a new range for us as we have found that foreign visitors in particular like articles with an african feel. We love the bright colours and the techniques you had used in those blocks.
All the books and magazines are much appreciated, as are the sewing and embroidery thread, braid, vilene, jacquard wool and the cutting board and rotary cutter. We look forward to experimenting with the sun dye too (as soon as we get some sun!)
Kind regards..................Caroline Coetzer (the trainer)
The Mdzananda Animal Clinic Story
It all started with a community hero who wanted to help his neighbours' pets. Mr Jo from the Khayelitsha pushed a trolley and water bucket around the community, bathing and feeding community pets. He soon attracted volunteers to assist him. A long standing volunteer was able to secure funding from the International Fund of Animal Welfare to assist this man in his animal saving efforts. Overwhelmed by the funding, he decided to hand the project over to this volunteer who grew the Mdzananda Animal Clinic and became the full time Project Manager up until May 2015 when a new Director joined Mdzananda.
Highly respected and supported by the Khayelitsha community, the Mdzananda Animal Clinic was founded in 1996 in response to the need to provide primary veterinary healthcare services to a fast growing community that had no access to help for their animals. It is a permanent, non-profit, veterinary council registered animal hospital serving up to 1000 pets per month.
Initially Mdzananda worked from a single donated shipping container with no running water or electricity. Today, thanks to the support of donors, Mdzananda is a fully functioning animal haven running 6 days a week.
Mdzananda means distemper in the local isiXhosa dialect - a viral disease affecting many animals in the Khayelitsha community.
STITCH 'N STUFF has been the collection point for cushions which are given to the clinic to sell to the owners of animals to raise funds. No price is put onto the cushions – the owners pay what they can afford. The money is used to buy food and medication to keep the clinic going.
The members of Good Hope Quilters Guild have been amazing in their support of these cushions and now you will know where your cushions are going to. We have been very fortunate to have Susan Titus who has very kindly been making the cushions up for us from stuffing that members have brought to the shop. Susan is taking a break for now as she had a major operation. We don't want to stop donating cushions so we would like to ask you to use your " old" fabric – poly cotton, cotton, curtaining etc and make the covers to put your stuffing into. The cushions can be any size from about 40cm square upwards. Rectangular and square cushions are appreciated.
PLEASE KEEP MAKING CUSHIONS. YOU CAN EVEN HAVE A SEWING DAY WITH YOUR GROUPS TO MAKE CUSHIONS.THANK YOU GOOD HOPE MEMBERS FOR YOUR SUPPORT.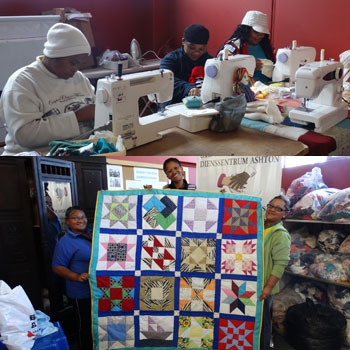 Silver Threads Dienssentrum - Outreach Project
27 Mei 2016
Beste lede van die Good Hope Quilters Guild (GHQG)
Hiermee ons opregte dank vir die skenking van lappies en boeke ten bate van Silver Threads Dienssentrum se kwilt- en naaldwerkopleidingsentrum vir werklose vroue op Ashton.
Ons het in 2013 begin met die projek om werklose vroue te bemag met die nodige kwilt- en naaldwerkvaardighede om selfonderhoudend te raak. Ons het ook ten doel om 'n sosiale welsynsbesigheid te begin om fondse in te samel om die volhoubaarheid van ons ons welsynsdienste aan minderbevoorregte bejaardes en inwoners op ons dorp te verseker. Ons beoog ook om aan die vroue werk te verskaf om hulle in staat te stel om 'n permanente inkomste te genereer.
Sedert 2013 het ons al 17 vroue opgelei waarvan 2 permanent by ons betrokke is. Ons werk volgens 'n vasgestelde sillabus en die entoesiasme waarmee ons opleier, Caroline Coetzer , die taak aanpak is 'n riem onder die hart. Die gretigheid van ons studente om te leer verseker die sukses van hierdie projek. Die 6 vrouens, huidig in opleiding beskik oor die nodige opleierspotensiaal om ons opleidingsprogram uit te brei sodat ons in die toekoms meer nuwe kandidate sal kan oplei.
Ons het hierdie projek in geloof begin en deur middel van ons plaaslike koerante het ons die publiek se samewerking van oraloor ontvang. Ons kry vandag nog skenkings van afvallappies en ander naaldwerkbenodighede. Tweedehandse naaimasjiene is aan ons geskenk deur die gemeenskap en met die hulp van 'n vrywilliger is die masjiene herstel. masjienparte is van sekere masjiene verwyder en in ander masjiene ingesit en so het ons 'n paar masjiene wat in werkende toestand is.
Ons saai ook na ander welsynsorganisasies deur van die materiaal wat nie geskik is vir ons gebruik nie, te skenk aan hulle vir hulle handvaardigheidsprojekte.
Nogmaals baie dankie vir julle ondersteuning.
Ons wil julle vriendeik uitnooi om ons te kom besoek en indien julle vir ons 'n tegniek demonstrasie kan kom gee, sal ons baie bly wees.
Vriendelike groete

Alida Cilliers
Bemarker